Expert, reliable computer services, Computer repair rates for online, in-house and on-site computer repair.
Please note that every computer is different, we will not charge you $100.00 for a $50.00 repair. That is why we offer free diagnostics. A diagnostic will allow us to give you a customized estimate for your particular issue. On this page, you will be able to order malware removal and system tune-ups only. Please call us, contact us or  submit a detailed quote request for a custom repair quote.
Not sure what solution is ideal for your home or business computer? Just give us a call at: (530) 903-8838 or Contact Us Online and we will be happy to help you to determine what is the best solution for your computer issues.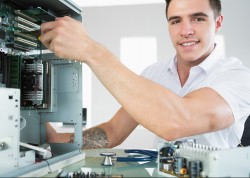 These are our standard rates, Managed Service clients receive additional discounts on computer and laptop repairs.
Computer Services
Our technician will fix your computer the right way. We offer online or in-person computer services.
Fast friendly service, expert technicians and repair estimates are always free!
Virus / Malware / Spyware Removal
We are virus removal specialists, our technicians will remove all viruses, spyware and malware (even harder to detect deep infections) and repair your damaged windows files that may have been corrupted by the malicious programs. Cost: $85.00 flat fee no matter how long it takes to complete the repair.
Order Malware Removal Now

 Full System Repair Plus Virus Removal
Our Most Popular Service – Includes full virus / malware clean plus we increase your computer performance by optimizing your start-up and shutdown components, cleaning up your menu, quick launch and task-bar shortcuts, remove unwanted programs and unnecessary software that are hogging your system resources, clean up your registry, remove unnecessary temporary files to free up disk space, install critical windows system updates, check your existing security and optimize your drive. Cost: $120.00 flat fee and takes from 4-6 hours to complete.
Order Full System Repair & Tune-up Now

We offer a wide range of professional computer services including
Windows 8, 7, Vista, XP, and MAC systems
Computer security, antivirus, and other security solutions
Wired and wireless network setup, repair or troubleshooting
Windows password recovery and Windows password reset
Laptop screen replacement / laptop screen repair
Laptop DC jack repair / charging port repair
Hard drive installation, upgrades and repair
Data recovery / transfer from a malfunctioning desktop/laptop drive
Data recovery from failing or malfunctioning hard drive
Data recovery of deleted files, including after reformatting
Contact Us About Our Computer Services