Computer repair is available for both Apple and PC machines.
Diagnostics are always free for your computer, phone, and data recovery. 100% guaranteed professional repairs. We are the top-rated Placerville computer repair business for 8 years running on Yelp.
Providing fast, friendly computer repair, laptop repair, cell phone repair for business and residential customers. Give us a call, you'll be glad you did.
Free diagnostics of your computer, laptop, or cell phone issues.
Expert removal of virus, malware, and trojan infections.
Fast, professional repairs of all makes and models.
Affordable Data Recovery for desktops or laptop computers.
Managed Service Provider (MSP) and Cyber Security Services.
All work is backed by our 100% satisfaction guarantee.
Secure online/remote repair and service available.
A computer pick-up/drop-off service is available for your convenience.
Fast turnaround on computer and cell phone repairs (usually 24hrs).
24/7 Emergency computer service available.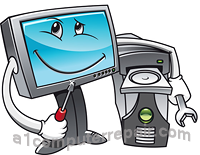 Expert removal of viruses, spyware, and malware including hard-to-find, deep infections, and the new CryptoLocker Ransom-ware trojan.
Not only will we remove the malicious programs from your computer, but we will also diagnose and repair the damage they caused to your windows program files and system.
Slow Computer? No Problem, We Can Fix It
If your computer or laptop is running slow or simply isn't meeting your current needs, we can diagnose the problem(s) quickly.
Such issues as, but are not limited to:
Virus/spyware infections removed.
Failing or faulty hardware replaced.
Tune-up and maintenance for best performance.
Software Conflicts resolved.
System security update maintenance.
Hardware conflicts resolved.
Our computer optimization service is the ultimate cure for a slow PC or laptop.
Local On-Site Home or Business Service
We can come to your home or business and do the computer repair or services at your local location.
Local Computer Pick-up and Drop-off
We can come to your local home or business, pick up your computer, perform the service(s), return it, and reconnect everything.
Online Computer Repair and Remote Support
Our technicians can work with you remotely to take care of any computer issues you are having. Our Remote Computer Repair service uses a 1024-bit RSA key exchange for a highly secure connection.
Not sure what service you need? Call us at (530) 903-8838 or send us an email. We offer a wide range of computer service options for your home, home business, or small business, we surely have your computer needs covered.