20+ Years Experience
A1 Computer Repair has over 20 years of experience in providing computer and laptop repairs, maintenance, and data recovery services to individuals and small businesses. Our mission is to improve the performance, reliability, and security of our customer's computer systems and networks. We are focused on providing friendly, professional computer services while keeping your repair costs affordable. Having computer issues? We will diagnose your computer or laptop for free and provide you with a reasonable repair quote before we start.
Professional Service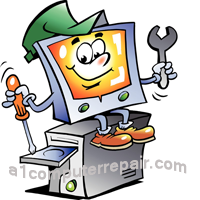 A1 Computer Repair provides professional computer repair specialists who understand that our customers just want their computer systems to work and want them fixed quickly and correctly at an affordable price.
Computer Diagnostics
A1 Computer Repair will diagnose your computer problem and explain what's wrong and the solution to you in words you can understand. We always perform the repairs as efficiently and cost-effective as possible and we guarantee our computer repairs with a 100% money-back guarantee.
On-site or Online Services
A1 Computer Repair is located in Placerville, CA. And we provide service to many of the surrounding areas. For customers outside the Placerville area, we offer remote computer service using professional computer repair specialists. We guarantee our work 100%, if we are unable to fix your computer, there is no charge.
Contact us about our IT services: