Computer repair services and support in your home or business in the Placerville area. Professional computer and laptop repair, malware and virus removal, improving system performance, and resolving complex computer problems.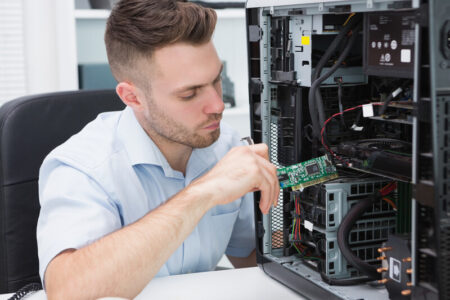 Local computer repair services can be performed at your Placerville area home or business or remote computer repair services can be done by our computer technicians with a 100% satisfaction guarantee. We are available for same-day, night, and weekend service calls for your convenience.
We will diagnose your computer and will give a free estimate, don't expect any surprises or hidden charges when using A1 Computer Repair. All our computer repair services are 100% guaranteed!
A1 Computer Repair Services
Remove Malicious Software Like Viruses, Spyware & Keyloggers
If your PC or laptop is contaminated with a virus, trojan, or other malware it should be eliminated as soon as possible. Most malware can be removed and cleaned within an hour at your location or using our Online Computer Repair service. We will remove all viruses and malware (even harder to detect deep infections) and install a recommended anti-virus solution.
Computer Tune-ups
Computer optimization and preventive maintenance will speed your computer up by eliminating bad computer registry entries, repairing or replacing damaged windows files, eliminating unneeded files, removing bloatware like trial and marketing software, limiting or removing unwanted programs that are needlessly using your system resources, repair disk errors, optimize disk and install high-performance anti-virus software. Repairs can be done at your location, our location, or using our Remote Computer Repair services.
Computer and Laptop Upgrades
Outgrow your personal computer? Need more storage or speed? We can upgrade or install new devices and components on your existing computer. We can install components such as video cards, hard drives, memory, power supplies, motherboards, and many other devices or components. Computer repair services can be done at your location or ours, free pickup and delivery of your computer are available in Placerville and surrounding areas.
Data Migration and New Computer Setup
We will get your new computing system running, plus install software and hardware. We remove bloatware like trial and marketing software, limiting or removing unwanted programs that are needlessly using your system resources so you can get the best performance out of your new computer.
Wireless or Wireless Network Setup
We can get your new or existing network up and running with the proper security settings to protect your personal information. Includes setting up your modem, and router and configuring it for security and the highest performance.
Data Backup, Data Recovery, and Data Migration
Computer Backup – We can install and set up a backup solution for your computer system. You never think losing your files will happen to you until it actually does. Backup solutions are inexpensive and automated so there is really no reason not to have one these days.
Data Recovery – Data recovery, raid data recovery, email recovery, and laptop data recovery services. Recovering data from damaged or formatted drives is possible in many cases, if we can't recover your files, there is no charge for the data recovery service.
Data Transfer – We can transfer your data from an existing hard drive or computer system to a new hard drive or computer system.
Printer Setup and Installation
Having Trouble installing a new printer, configuring an existing printer, or fixing printer errors? We can help with our printer setup and installation service.
Recover or Reset Lost Passwords
Lose your password? We can recover or reset computer passwords so you can access your system again with our password recovery service. If we are unsuccessful in getting your access back, there is no charge for this service.
Contact Us About Computer Repair