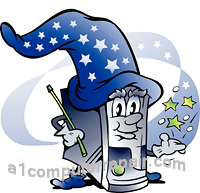 Online computer repair and remote pc service. Most computer repairs can be done remotely via a secure connection to one of our qualified computer technicians. Using our online computer repair service, we can perform malware, virus, and trojan removal with our online malware removal. Optimize and fix your slow computer. Diagnose potential hardware problems before they occur.
Our online repair service offers US-based technicians who provide complete virus and spyware removal as well as computer optimization with a 100% satisfaction guarantee.
Convenient – Repairs are done remotely by a qualified computer repair person.
Inexpensive – Flat rate computer repair with no additional hourly charges.
Guarantee – If we are unable to repair your computer, there is no charge.
Cost-Effective – No service call saves us money and the savings are passed onto you.
Warranty – Our remote repair comes with a 30 warranty and support.
Safe & Secure – We access your computer using a highly secure connection that uses a 1024 bit RSA private/public key exchange and 256 Bit AES session encoding.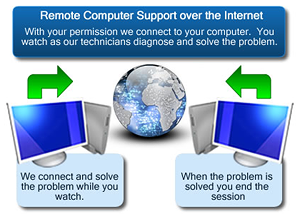 Our technician connects to your computer or laptop using high secure encrypted internet connection to diagnose and fix your computer problems. You will be able to watch everything on your screen while the computer repairs are being done. Repair comes with 30 days of live support and a 90-day warranty. If we cannot fix it, there is no charge for the service.
Online Repair is ideal for things like virus/malware removal, system optimization and performance tuning, computer device installation/updates, solving windows issues, setting up printers or other devices, and even setting up your wireless network! Using our secure online remote access software, we are able to fix most computer issues.
Computer Service Fast With Remote Computer Repair, Virus Removal, and Optimization