Local computer repair can be done on-site at your home or business. We offer affordable on-site computer service to most areas of Placerville and surrounding areas. We also off secure, professional remote computer repair at a reasonable cost.
We will diagnose your computer or laptop and will give a free estimate, you won't get any surprises or hidden charges when using A1 Computer Repair. All our computer repair services are 100% guaranteed!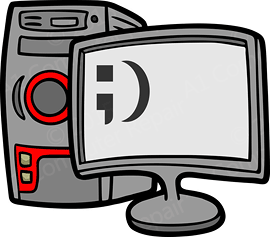 How Our Local Computer Repair On-site Service Works
After you contact us we schedule an on-site service call to your home or business. We can perform the repairs at your location or we can pick up your computer or laptop and bring it to our location to complete the repairs. After the computer repairs are complete, we return your computer and hook it back up.
Computer Backups – We can also install and set up a good backup solution for your computer system. You never think losing your files will happen to you until it actually does. Backup solutions are inexpensive and automated so there is really no reason not to have one these days.
Local Computer Repair On-site Computer Support Services
Expert computer and laptop repair services.
Computer upgrades and hardware installation.
Remove viruses, malware, spyware, and other malicious software.
Replace broken laptop screens, keyboards, fans, and power plugs.
Wireless and wired internet installations and upgrades.
PC security assessment and protection setup.
New computer installation and setup.
Computer or laptop upgrades (more memory and/or hard drives).
Data recovery from hard drive failures.
Printer installation and setup.
Computer backup and cloud computing setup.
And much more…….
For homes and businesses outside of our local service area, we offer remote computer repair and support services at very reasonable rates. Online/Remote computer repair is available nationwide and ideal for most computer problems including fixing slow computers, removing malicious software, fine-tuning computers for maximum performance, repairing system errors, diagnosing failing hardware components, and much more.
Contact Us About Computer Repair Now