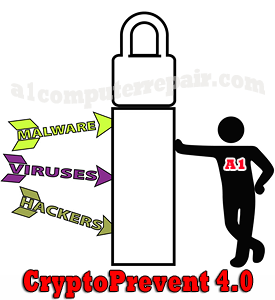 Cryptolocker malware protection with CryptoPrevent, download and run this free program to help prevent the malicious malware Cryptolocker, a ransomware trojan from infecting your computer.
Since a lot of trojan based malware out there utilizes the same infection tactics and launch point locations as Cryptolocker, this software will help protect against all malware that fits the same or similar profile and behavior
CryptoPrevent is a small but powerful utility that locks down any Windows OS (XP, Vista, 7, 8, and 8.1) to help prevent infection by the Cryptolocker malware or "ransomware", which encrypts personal files and then offers decryption for a paid ransom. We provide this software free for personal use, please contact us for commercial use of this utility.
Quick Install Guide (2 steps)
(1) Scan and Remove Existing Malware First
Important: before activating this malware prevention utility, please make sure your computer is free of malware. You can do a basic malware clean with the free version of Malwarebytes anti-malware software. Download MalwareBytes Here, navigate to the free version, and follow the directions.
(2) Download and Activate the CryptoPrevent Software
After your computer has run and completed the Malwarebytes free version, download CryptoPrevent by clicking on the link below.
Please note you must open and run CryptoPrevent once it has finished downloading.
Sign Up for News and Updates
Optional: If you would like to be notified of future releases and other new software, please sign up for our newsletter below.
If you have any questions please fill out a contact form or call us at: (530) 903-8838, we would love to hear from you!