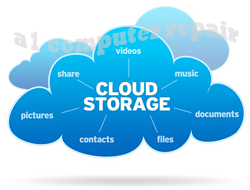 Guarding and backing up your business's computer data is a vital task that you never overlook. A cloud service is a way of storing data safely on the internet. Big companies like Amazon and IBM keep their data on an internet cloud, and other small businesses can also gain the same security of these services when it comes to matters concerning their computer data. Whilst most businesses are familiar with the sensitivity of these tasks, they may not understand the benefits of a secure computer backup system.
Cloud computing isn't all a new technology, though for a number of people it will be a fully new concept and sometimes it can be a bit more confusing as they try to understand and attain the idea in general. Using cloud services to store your data doesn't at all means that your data will float over the clouds, it puts forward that they will store your data safely inside a cloud server in a data center located in a safe location. This is accessible and you can modify them based on your needs anytime you want to do so with a high-speed connection to the internet.
The cloud database was made with the main purpose being online data management via various distributed services. Cloud dwells on a system of virtual servers that modify records and update any database content online. The internet acts as the principal medium via which such information and data are managed. Web servers are basically simply used in hosting the domain of any website. The real data is stored in another server that keeps a log of all the data entered and accessed online. The capability of working anywhere and at all times makes cloud backup a distinct entity when compared to other server systems.
There are specific advantages that come with hiring data managing services for your organization. A virtual database is more valuable than a centralized database server, which is common in most organizations nowadays. Similar to cloud content management systems, a virtual database system enables your employee to easily access and share information with no respect to their present accessibility or location. This will reduce the time and energy in maintain a real server. The data that the organization needs access to can be shifted easily or located at a more convenient and securer location where they can be accessed and may also be used as a backup.
There are 3 main benefits of using cloud services for securing your data; savings in both costs and time related to performing local regimes for backup and raised security of data.
1) Time Savings
Look at the time your staff members take to burn a backup file of all the data regularly. Expectantly, you will be storing your data once a week, mostly depending on your industry. Backing up your data through cloud services can be automatically integrated, almost abolishing the additional time needed to copy files to many size-restricted storage services. By a few mouse clicks, complete backup files can be uploaded to the cloud, and the procedure is finished.
2) Cost Savings
In case you lose some data critical to your organization it can be very expensive to reinstall critical application software and restore previous files. If you backed up this data you will be in a position to restore everything and go on with operations. Though, re-installing application software first, and then installing your most recent backup for every application consumes time and costs you cash – as you cannot operate your business till everything is functional.
The time you would take to perform these emergency tasks would've been more useful if spent in your business operations, making finances that make you stay in business. Cloud computing companies help in restoring data immediately, therefore saving you outlay in the long run by giving you time to concentrate on operating your business.
3) Increased Security
On-site backup systems have the possible risk of having unauthorized access, stolen during break-ins, or corrupt or broken down. Security protocols are laid into an organized way of backing up data in the cloud. Cloud storage companies embrace an encrypted network infrastructure in their storage engine, mostly redundant backups in multiple servers spread over different locations. Companies highly reputed in cloud services have policies for security and lockout to make sure that only authorized persons can gain access to your data.
Both business owners and home computer users will be at peace when they decide to hire cloud services to protect and store their digital data. They can direct their efforts when they're required, in operating their business. Relying on cloud services saves your money, and time, and raises your security level, increasing overall organization development.
A1 Computer can assist you in setting up cloud computing for your home or business computers – Contact A1 Computer